We are the church, whether together in person or online!
All events on our Main Facebook Page are also happening on YouTube and can be accessed by anyone. We encourage you to join us in the comments and share the livestream to invite your friends and family.

All events happening in our Facebook Groups can only be seen by members of each group. We created our groups for everyone who calls Osborne Church their home, to help us better connect and encourage one another in a safe place. If you'd like to join our groups simply click on the links below or search for them under our groups on Facebook and request to join. We'd love to connect with you.
Livestream on Facebook and YouTube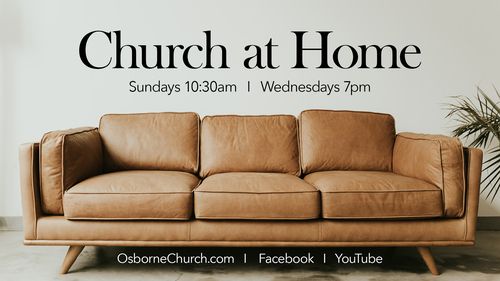 Join us for our main online service every Sunday at 10:30am on Facebook and YouTube. We look forward to connecting with you in the comments section!
Each Sunday before our main service we are having Sunday School together with Claudine Willey. Join us for this inspiring and instructional time in God's word.
We are excited to finally start meeting in person!
This service will also continue to be live streamed.
Click
here
for more info.
Connect in our Osborne Family Group on Facebook
Pastor Ryan will jump on Facebook Live in our group every Tuesday at 10am for 10 minutes to dive deeper into a topic or point from his Sunday Sermon.
Each week we will see and hear from a different member of our church. This is a place to get to know each other better, hear what God is saying to our church body, and understand what others are experiencing in this season.
Join Pastor Greg every Friday morning in our Facebook group for some good, down-to-earth devotions time. We're looking forward to learning from him as he shares his wisdom and insight.
Each Monday at noon we have the opportunity to hear from different women of our church about how God is moving and the biblical truths we are learning together. Join us in our Osborne Ladies Facebook Group, we look forward to connecting with you.
Each Tuesday night at 6pm our Osborne Kids Director, Jennie Chapin leads this zoom meeting to hang out, learn a bible lesson, and play a game. Check out our Osborne Kids Group on Facebook to find out more information about how to join this safe and fun zoom meeting!
Have any questions about Facebook or how to connect with us online?
Let us know here and we'd be happy to help.