We pursue a relationship with God by
encountering
His PRESENCE,
We're about
KNOWING JESUS
& being grounded in the written word of God.
We invite you to
EMBRACE
the Truth & allow it to transform you as you live it out.
We're about
PRAISING JESUS
in Spirit & in Truth
We invite you to
ENCOUNTER
the presence of God with us.
We're about
WALKING WITH JESUS
to love people well
We invite you to be
EMPOWERED
by the Holy Spirit to share Christ with others
Luke 5:4 "Launch out into the deep and let down your nets for a catch"

"Launch" means leave where you are and go somewhere new – but do it with great haste. "Out into the deep" means where you are going has some risk and potential for failure – it lacks comfort and safety. Let down your nets for a catch means letting go of your way of thinking and letting go of control – but the reward will be beyond anything you have ever experienced.

This year, you and I are to launch into new territory and go places we have not gone before. We are being called by God to take risks and leave behind comfortability and safety to go deeper than we have ventured before. But we won't fully arrive unless we let down our old ways of thinking and let go of control. The calling of God and the reward awaiting is far greater than we realize. I pray that together we take hold of this vision and begin to own it. May this vision grow within us and launch us into a new and glorious season where we truly are successful in "fishing for men" and multiplying the kingdom of God. I am excited to see our church 'launch' in 2020, are you!?

- Pastor Ryan Donnelly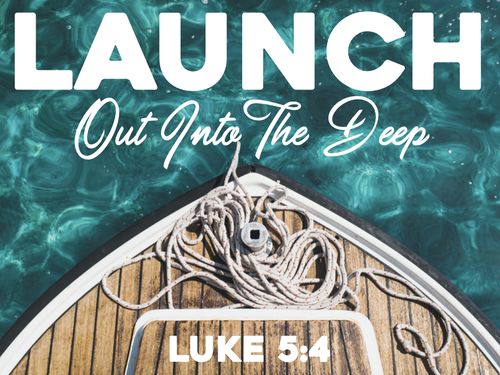 WE BELIEVE the Bible is the inspired Word of God. There is one God, eternally existent in three persons; God the Father, God the Son, and God the Holy Spirit.

WE BELIEVE in the deity of our Lord Jesus Christ; in His virgin birth - His sinless life - His miracles - His vicarious and atoning death - His bodily resurrection - His personal future return to the Earth for His saints, both living and dead; then with His saints to rule and reign upon the earth.

WE BELIEVE that the only means of being cleansed from sin is through the faith in the shed blood of Jesus Christ and that regeneration by the Holy Spirit is essential for personal salvation.

WE BELIEVE in the present ministry of the Holy Spirit by whose indwelling the Christian is enabled to live a Godly life.

WE BELIEVE in the resurrection of both the saved and the lost; the one to everlasting life and the other to eternal separation from God.
We'd love to hear from you. Fill out the form below to get started.